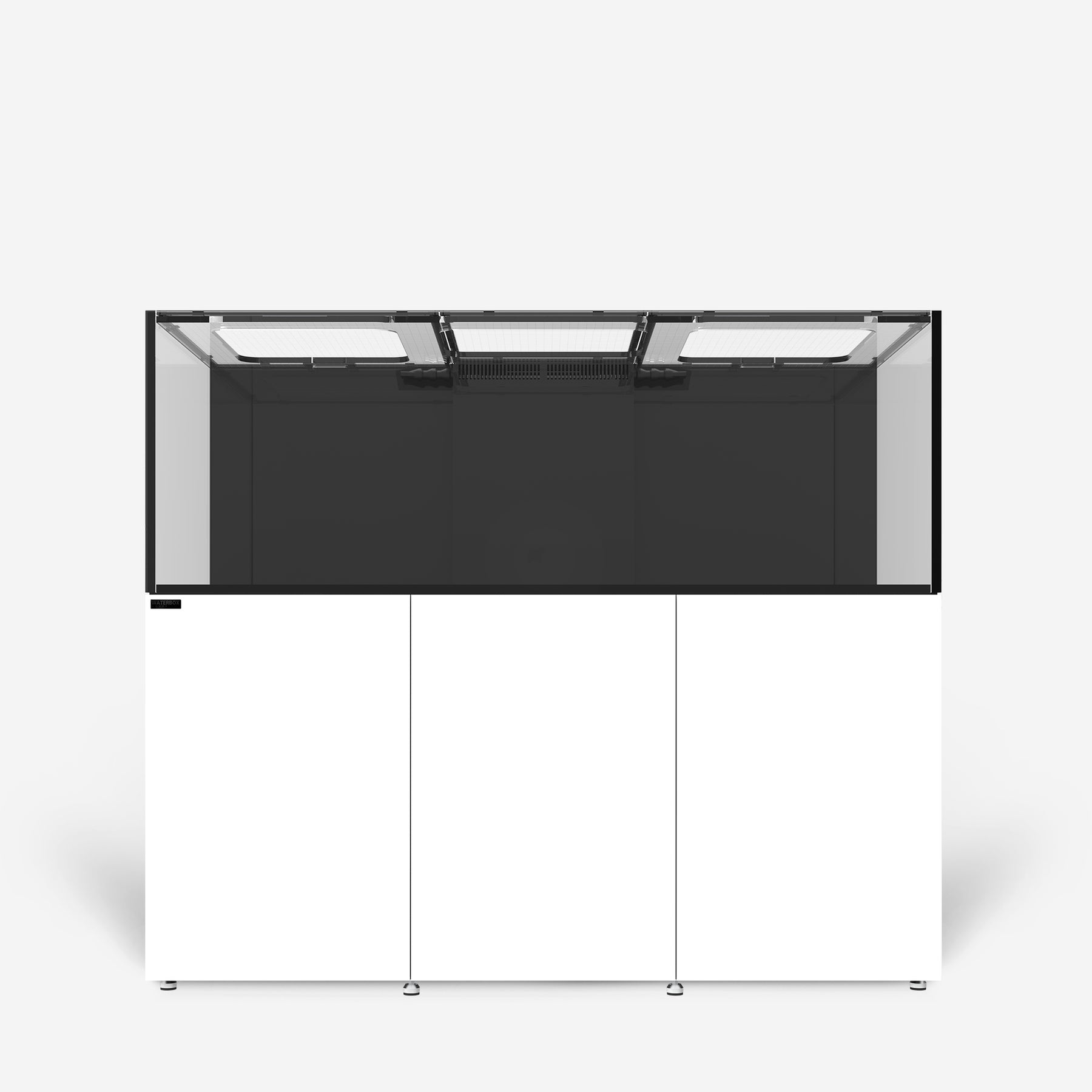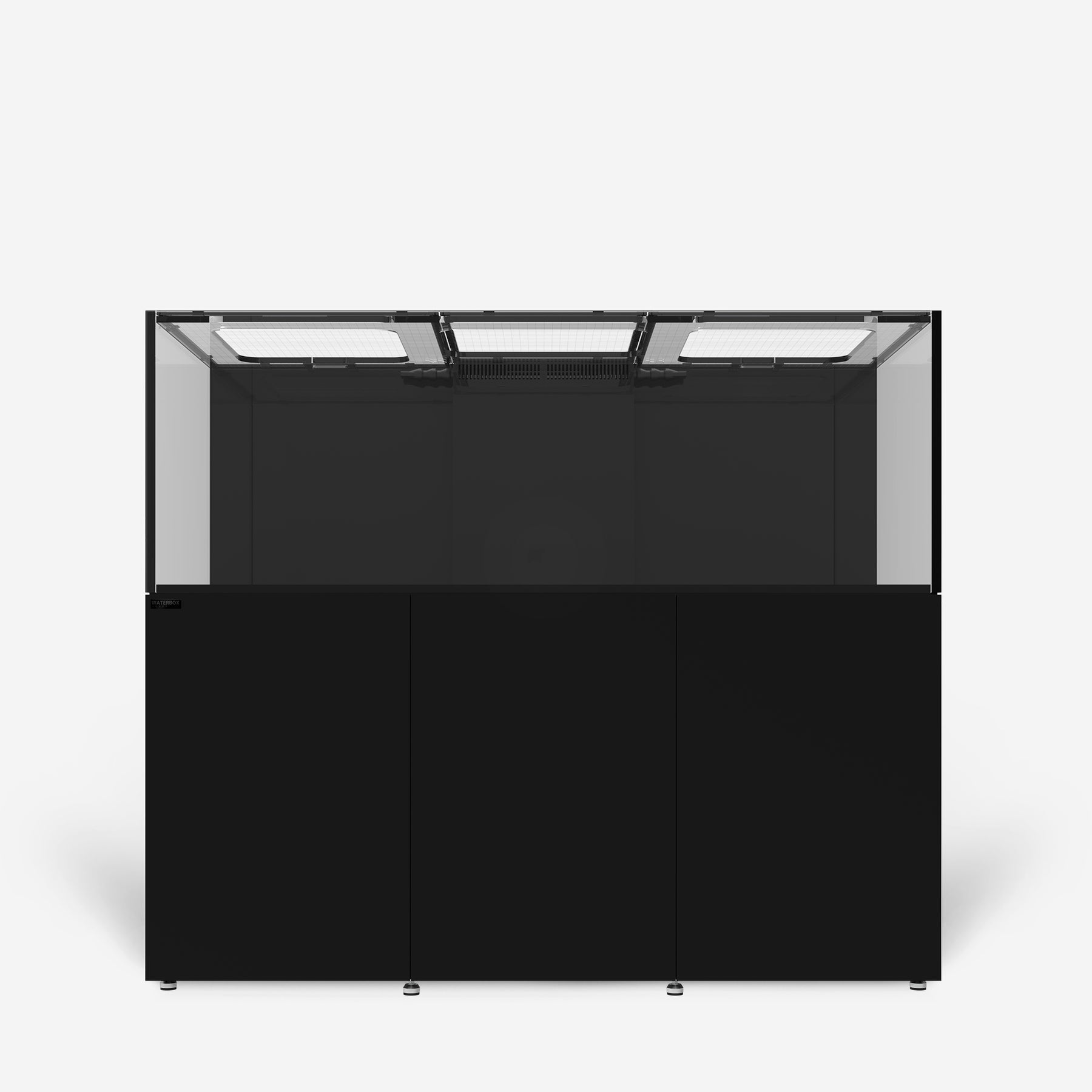 REEF LX 290.6
• Dimensions (LxWxH): 1836 x 750 x 650mm (72.3" × 29.5" × 25.6")
• Height with Cabinet: 1,577mm/62.1"
• Display Volume: 808 L/213.4 gals
• Total Volume: 1,091 L/288.3 gals
• Glass Thickness: 19mm
• Includes: Aquarium, Pre-Assembled Cabinet, Sump, Plumbing Kit, Filter Socks, Sock Silencers
View Full Specifications
In-Stock. Ships in 3-5 business days.
The Display
A Seismic Aquarium
The REEF LX reigns as the foremost premium reef aquarium in our lineup. Each system includes euro-braced Ultra Clear Low Iron Display, Fully Assembled Cabinetry, plumbing kit and sump system.
Renowned for superior quality.
Ultra-Clear diamond beveled
glass offers visual clarity up to 19mm (3/4").
CNC precision
Eurobrace with mesh lid
reinforces the 19mm Ultra Clear Glass Viewing Panels.
High-strength black silicone
provides clean lines and longevity.
Central Overflow
with water etched glass weir comb allows for optimal flow.
The Plumbing
Safe, Silent and Tested for Performance
Our plumbing systems offer the convenience of quick and easy assembly, while delivering high-performance results equivalent to those achieved through custom designs.
Quick Connect Fittings
assemble quick and easy with no gluing required.
Easy Assemly with no gluing required
Return Line includes
dual adjustable nozzles
for maximum turnover.
Precision Overflow Valve
allows for precise adjustments ensuring quiet operation.
Manifold
provides access for additional reactors and equipment.
Designed to prevent flooding.
Check Valve
ensures back syphon does not overflow the sump.
The Sump
Did you say filter roller? 
The REEF LX sump system features an integrated filter sock chamber which can easily adopt the most popular filter rollers.
Filter Sock
Filtration featuring dual 7-inch filter socks to maximize filtration capacity.
Skimmer or Media Reactor Chamber
with ample space for the industry's leading skimmers and reactors.
Easily adopt the most popular filter rollers.
Refugium
maximizes your nutrient export.
Included
RO Reservoir
for ease of maintenance using an electronic top-off system.
The Cabinetry
Strength and Durability
The REEF LX cabinetry system arrives fully assembled, utilizing robust 30mm aluminum framing and sleek exterior paneling in white or black.
Constructed with 30mm
aluminum framing
to easily withstand the weight and humidity of your aquarium system.
High weight capacity
adjustable leveling feet
ensure your aquarium is level, front to back and side-to-side.
Constructed with 30mm
aluminum framing
to easily withstand the weight and humidity of your aquarium system.
Electrical Compartment
makes it easy to maintain controllers and electrical components organized.
Financing
Reef Now. Pay Later.
Waterbox now offers two convenient ways to pay for your aquarium purchase over time.
Product Model
REEF LX 290.6
REEF LX 330.7
REEF LX 380.8
System
Height with Cabinet
1,577mm/62.1"
1,577mm/62.1"
1,577mm/62.1"
Total Volume
1,091 L/288.3 gals
1,250 L/330.2 gals
1,450 L/383.1 gals
Display

Dimensions
(Length x Width x Height)
1,836 x 750 x 650mm
2,136 x 750 x 650mm
2,448 x 750 x 650mm
72.3" × 29.5" × 25.6"
84.1" × 29.5" × 25.6"
96.4" × 29.5" × 25.6"
Ultraclear Front & Sides
19mm (3/4")
19mm (3/4")
19mm (3/4")
Bottom Glass
19mm (3/4")
19mm (3/4")
19mm (3/4")
Euro-bracing Thickness
15mm (3/5″)
15mm (3/5″)
15mm (3/5″)
Aquarium Volume
808 L/213.4 gals
943 L/249 gals
1,083 L/286 gals
Glass Material
Ultra-clear Low Iron glass (front, sides and euro-bracing)
Transmittance
91%
Sump
Dimensions
(Length x Width x Height)
1,016 x 610 x 400mm
1,118 x 610 x 400mm
1,270 x 610 x 400mm
40" × 24" × 15.7"
44" × 24" × 15.7"
50" × 24" × 15.7"
Sump Volume
233 L/61.5 gals
257 L/67.8 gals
292 L/77.1 gals
Glass Thickness
8mm (5/16")
8mm (5/16")
8mm (5/16")
Refugium Chamber
(Max Dimensions)
250 x 518mm
300 x 518mm
350 x 518mm
9.8" × 20.4"
11.8" × 20.4"
13.8" × 20.4"
Refugium Chamber
(Min Dimensions)
200 x 518mm
230 x 518mm
250 x 518mm
7.9" × 20.4"
9.1" × 20.4"
9.8" × 20.4"
Skimmer Chamber
(Int. DIM, w/o Refugium)
547 x 518mm
649 x 518mm
801 x 518mm
21.5" × 20.4"
25.6" × 20.4"
31.5" × 20.4"
Skimmer Chamber
(Int. DIM, with Min Refugium)
342 x 518mm
414 x 518mm
546 x 518mm
13.5" × 20.4"
16.3" × 20.4"
21.5" × 20.4"
Skimmer Chamber
(Int. DIM, with Max Refugium)
292 x 518mm
344 x 518mm
446 x 518mm
11.5" × 20.4"
13.5" × 20.4"
17.6" × 20.4"
Pump Chamber
(Int. Dimensions)
180 x 518mm
7.1" × 20.4"
ATO
ATO Dimensions
(Length x Width x Height)
305 x 475 x 380mm
350 x 610 x 380mm
12" × 18.7" × 15"
13.8" × 24" × 15"
ATO Volume
51 L/13.4 gals
76 L/20 gals
Glass Thickness
6mm (1/4")
6mm (1/4")
6mm (1/4")
Plumbing
Main Drain
2 x DN25 (32mm/1-1/4")
Emergency Overflow
DN32 (40mm/1-1/2")
Pump Return
DN25 (32mm/1-1/4")
Nozzle(s)
2 x DN20
Filtration
Filter Socks
2 x 180mm/7" MESH
Filter Sock Silencers
2 x 180mm/7"
Interchangable with Roller Filter
YES
Cabinet
Cabinet Model
ALU 7230
ALU 8430
ALU 9630
Cabinet Dimensions
1,836 x 750 x 927mm
2,136 x 750 x 927mm
2,448 x 750 x 927mm
72.3" × 29.5" × 36.5"
84.1" × 29.5" × 36.5"
96.4" × 29.5" × 36.5"
Sump Compartment
(Int. Dimensions)
1,637 x 670 x 785mm
1,463 x 670 x 785mm
1,700 x 670 x 785mm
64.5"×26.4"×30.9"
57.6" × 25.7" × 32.8"
66.9" × 25.7" × 32.8"
Electrical Compartment
(Int. Dimensions)
430 x 91 x 746mm
430 x 91 x 746mm
430 x 91 x 746mm
17" × 3.6" × 29.4"
17" × 3.6" × 29.4"
17" × 3.6" × 29.4"
Aluminum Framework
Heavy Duty Anti-corrosion Aluminum Alloy
Doors & Side Panels
18mm Plywood, Water-resistant PU coated
Bottom Panel
10mm PVC Board
Cabinet Color
WHT-White, BLK-Black